Last night I watched pound-for-pound champion Manny Pacquiao fight undefeated challenger Timothy Bradley. It turned out to be one of the most controversial decision since Lewis-Holyfield.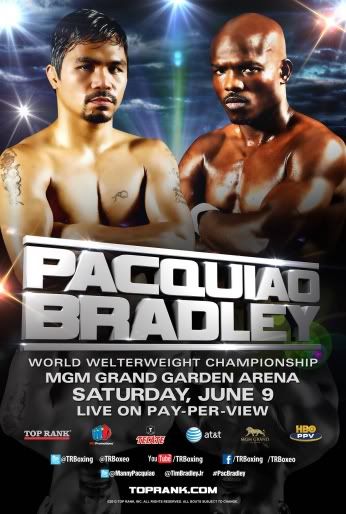 The pre-fight hype settled with Pacquiao as a clear favorite with betting lines at -450 for pacquiao and +325 for Bradley [sb, br]. This translates as Pacquiao at about a 4:1 favorite. Some fans, like myself, didn't expect much out of this fight. For us, Timothy Bradley didn't have the skills to match the future hall of famer to make it a close contest. Others disagreed noting Pacquiao's notable steady decline in recent performances, possibly showing the sputter of high mileage in a long and storied career. Aligning those negatives against Bradley's youth, speed, and will made for a compelling argument [fox, eastside]. Luckily for me, a friend was having people over and bought the PPV and extended an invitation saving me the hem-haw of PPV buying decisions.

As the night wore on HBO found itself with a lot of time to fill trying to time the end of the end of the Eastern Conference Finals so as not to overlap with their main event. To boot, the Arce-Rojas undercard was stopped short and called a 'no decision contest' shortly into the 2nd round after a strange series of punches from Rojas that included a low blow, a head butt, a kidney punch, and a final punch to the back of Arce's ear [br]. All that screwed everyone's timing up from boxers and trainers to the broadcast. As if those weren't enough WTF delays, HBO commentator Max Kellerman announced the unexpected absence of Manny Pacquiao from the locker room being told by trainer Freddy Roach that Pacquiao was out stretching his calves [fox, blh].  

With the extra time, Jim Lampley had an opportunity to talk with hall of fame inductee and unofficial ringside scorer Harold Lederman about the referee and the judges. The referee and the judges have as heavy a hand, if not more so, in the outcome of a fight than as the boxers themselves. The referee for this fight was Robert Byrd. I'd never heard of him. I've heard of Tony Weeks, Kenny Bayless, Steve Smoger, Jay Nady, Richard Steele, and we all know Joe 'Fair but Firm' Cortez but everyone also knows he's a bad referee compared to the others. I'd never heard of Robert Byrd. Apparently he does have experience working high level fights, just not in Las Vegas [blh]. I still didn't like the feel of it. Jim and Harold then went down the list of Judges. Duane Ford, a record of good decisions; Jerry Roth, sometimes are better than others but a veteran; and C.J. Ross who Lederman expressed apprehension about because of a lack of experience in high profile fights.

The fight finally began after midnight east coast time and started out as an interesting fight with Pacquiao imposing his uncanny power on Bradley. It seemed Bradley might visit the canvas a few times that night.  But somewhere around the 4th or 5th round the fight changed. Bradley stopped coming forward and Pacquiao wasn't throwing his straight left as often and wasn't looking for angles to catch Bradley with to put him away. It felt as though Pacquiao was winning rounds, landing more overall punches and a wobbling Bradley at times with power punches, but was somewhat coasting. In those middle rounds Pacquiao also appeared to spend the first two-thirds of the respective rounds just walking down a now retreating Bradley without initiating much action. The ringing of questions about Pacman losing that killer instinct started bubbling up n my mind. As the fight entered the later rounds I openly declared, "this fight sucks. Bradley's going to see his first loss and there will be no one left to fight." The friend who's party it was asked me, "how much do the fighters get this fight?" I explained that from what I understood Bradley was guaranteed $5 million while Pacquiao's share was $26 million [bn]. I added, "But I'll tell you this… if Bradley wins, he makes himself $100 million just based on where his career would go after defeating the Champ."

The fight went the distance, everyone was going through the motions waiting for the lopsided decision in Pacquiao's favor. The fans in the MGM Grand waited, the boxers waited, the broadcasters waited, the PPV fans ate chicken wings. Just going through the motions of waiting for the inevitable decision of a fight that was void of fireworks. HBO unofficial scorer had it 11 rounds to 1 for Pacquiao. At times Lederman's scorecard is a bit wider than the official judges but even correcting for the margin of error Pacquiao should still win an easy decision.

Then, boom! As they read the score cards you knew something was awry. Every time I hear the score cards on a bad decision I know it's coming, I think everyone does. There is a notable hesitation in the announcers voice, sometimes the arithmetic of the cards doesn't add up, and other times it's in the faces of the boxers. They either don a, "they're gonna rob me," face, or a "I might steal it," face.  As finished announcing the first card Pacquiao and Bradley had these faces respectively.

Bradley would win surprising a split decision [br, ].
Jerry Roth 115-113 for Pacquiao, CJ Ross 115-113 for Bradley, and Duane Ford 115-113 for Bradley.
(via Bad Left Hook who has a larger image of the judges scorecards.)
I immediately had a reaction.


Wow, what a bad decision for the sport… here is where boxing in Las Vegas dies #PacBradley

— Luis Antonio Perez (@NorthsideLou) June 10, 2012
The decision reeked of a fix to everyone illustrated by the torrent of boos raining down onto the ring from the rafters. I immediately wanted to watch the fight again in its universally recognized purest form, "With-The-Sound-Off." I will do this later today, but have many questions about this bizarre outcome now.

Ringside announcer Max Kellerman thought it was a bad decision but hedged his bet saying "others he respected" ringside had it for Bradley. Jim Lampley told ESPN reporter Dan Rafael that it was one of the worst decisions he's seen in 30+ years of broadcasting [espn]. Dan Rafael himself and many others on press row were shocked as well.
http://espn.go.com/video/clip?id=8032601
"I'm as confused as anyone," Lampley remarked [espn].

As I watched Lampley continue the broadcast discussing the result his eyes were red and I wondered if it was from fatigue or suppressed anger. Did Lampley just witness the moment when the sport of boxing fade into irrelevance? With such a disheartening decision the question about the relevance of boxing becomes a reasonable one. Popular discourse then takes us into the us vs them, MMA vs Boxing argument. Is this the turning point that pushes frustrated fight fans away from boxing and towards MMA? Maybe yes maybe no [br].

In many ways you have to feel for Bradley because the story today is about the judging not about his victory. With that said, Bradley himself seemed unsatisfied with the win especially considering the unlikely feat of dethroning the pound-for-pound legend. He didn't have the reaction I would have expected from such an overwhelming underdog.

Because the sport is boxing, talks of conspiracy and corruption follow closely behind, especially when there is such a universally agreed upon poor decision. When you start going down the conspiracy path you start lining up the stakeholders and their interests. The usual suspects never regarded as having character above collusion which makes it easy to build a case. Boxers are after all prize fighters, and ultimately Boxing is show business.

Arguably, Pacquiao has no one else to fight [ov], other than Floyd Mayweather Jr. or an undefeated fighter reaching his prime, like Bradley. Of course, there are fighters who are more than willing to enter the ring with Manny Pacquiao, but for a fighter at his level (and age), a future hall of famer with nothing more to prove, putting your life at risk needs to be worthwhile. Today, a Pacquiao-Mayweather fight would still be a Mega-Fight earning each fighter over $30 million, but as time passes and chips away at the speed and ability of the aging athletes, that fight becomes less and less worthwhile for fans who are already beginning to question the value of paying for the "slop" being slinged on PPV [br]. But I digress. Pacquiao has no one else to fight. A controversial decision and subsequent rematch would go a long way for the business of boxing.

Both Manny Pacquiao and Timothy Bradley are Top Rank fighters. They have the same promoter. Giving Timothy Bradley the victory over Manny is a win-win for Top Rank. Manufacturing a redemption story for Manny Pacquiao will extend his legend and makes everyone more money. Alternatively, with this decision Timothy Bradley becomes the fighter to beat, even if only because he is the first fighter to get the best of Pacquiao since Erik Morales more than half a decade ago. Either way you sell another 1.5-2 million PPV's on Manny's retirement/redemption fight or 1 million PPV's on each of Bradley's next 3 fights. Top Rank CEO Bob Arum says publicly that he is ashamed of boxing and the decision, but for some he's feigning outrage considering all he has to gain as a result [bs]. [bn]


@BobArum: I don't think anything was happening here except these people don't know how to score. They really don't. #PacBradley

— Top Rank Boxing (@trboxing) June 10, 2012
Needless to day the Top Rank fix theory has the legs of conflicting interests, the conflict being between truth and good business.

Another theory floating around involving Top Rank is that Pacquiao's contract with Top Rank is approaching an end and Manny was planning on leaving [sb]. Teddy Atlas questioned as much in an interview with ESPN.
http://espn.go.com/video/clip?id=espn:8032522
Teddy Atlas, not one to pass an opportunity to criticize the administrative structure of boxing, is echoing a lot of what many criticize about the sport when bad decisions are laid down. Atlas remarks that, "funny things happen," when a fighter is at the end of his contract. If you believe the decision to give Bradley the win was an injustice, like Teddy does, you have to feel that the judges are at best incompetent and at worst corrupt. If there are villains and thieves in this story Teddy is right, "the criminals will be rewarded."

Yet another log to add to the roaring blaze of conspiracy are allegations of an increase of late bets for Bradley. If there exists a clear red flag of a fix, late bets are it. As word gets out of a fix in the last moments as the books close, everyone will clamor to get those bets in and in turn suddenly bringing the line closer than it had been leading up to the fight as is alleged [aktv].
#future30for30 RT @haralabob: Late money on this boxing match, Pac was -432 at 2pm it closed -397 at pinny. Lots of late money on Bradley.

— Bill Simmons (@sportsguy33) June 10, 2012

I'm not a betting man, but it makes sense to me.

Here's another conspiracy as a one-liner. With Mayweather Jr. being in jail until late July, isn't this perfectly scheduled for a Mayweather tune-up fight in Nov/Dec before taking the winner of Pacquiao-Bradley II in Spring 2013? Seems convenient. Too convenient?

Beyond the conspiracies we can ask about Pacquiao's performance. He wobbled Bradley a few times in the fight, why didn't he take him out? Pacquiao seemed to take long breaks early in most rounds, what was that about? Where is the killer instinct? Pacman's last five fights have gone the distance, is his KO power waning? In his last outing Pacquiao had a lot of trouble with Marquez, who Mayweather beat handily, is this a less quick, less sharp Manny we're seeing? Is 34 year-old fighter on his way to a steep decline? Should he just retire?

As always in boxing there are more questions than answers. One thing is for certain, Timothy Bradley is the new WBO welterweight champion of the world.
Now off to watch this fight in silence.
—————————————————————————————————————-
P.S. This is from the weeks leading up the the first fight from Yahoo boxing/MMA columnist Kevin Iole.
It seems @Timbradleyjr is so confident of beating @MannyPacquiao he's made a credential for a rematch. My blog post yhoo.it/KFmpuA

— Kevin Iole (@KevinI) May 29, 2012
(via Kevin Iole)
more stories
http://sports.yahoo.com/blogs/boxing/?author=Kevin+Iole
http://deadspin.com/5917175/manny-pacquiao-was-screwed-says-literally-everyone-associated-with-shady-sport
http://bleacherreport.com/articles/1210829-manny-pacquiao-vs-timothy-bradley-results-desert-storm-defeats-pac-man
http://bleacherreport.com/articles/1215093-pacquiao-vs-bradley-odds-last-minute-betting-lines
http://msn.foxsports.com/boxing/story/Manny-Pacquiao-Timothy-Bradley-round-by-round-060912
http://www.eastsideboxing.com/news.php?p=32328&more=1
http://www.youtube.com/watch?v=iHtaMW_SVGY&list=UUpIG6SN5O8NnmWyiIdMcivQ&index=3&feature=plcp
http://bleacherreport.com/articles/1215639-jorge-arce-vs-jesus-rojas-results-round-by-round-highlights-and-recap
http://bleacherreport.com/articles/1215779-pacquiao-vs-bradley-results-breaking-down-judges-controversial-scorecards
http://bleacherreport.com/articles/1215834-pacquiao-vs-bradley-scorecard-controversy-hints-at-deeper-problems-in-boxing
http://bleacherreport.com/articles/1215758-manny-pacquiao-why-his-golden-boys-loss-to-tim-bradley-is-good-for-bob-arum
http://www.sbnation.com/users/Scott%20Christ/blog
http://www.badlefthook.com/2012/5/21/3034562/pacquiao-vs-bradley-referee-judges-named-june-9-fight-hbo-boxing-news
http://www.badlefthook.com/2012/6/8/3073481/pacquiao-vs-bradley-judges-referee-undercard-fights-arce-rigondeaux-hbo-boxing-news
http://bostonherald.com/sports/other_sports/boxing/view/20120610manny_pacquiao_loses_split_decision_to_bradley
http://www.indystar.com/usatoday/article/712529?odyssey=mod%7Cnewswell%7Ctext%7CSports%7Cp&usatref=sportsmod
http://espn.go.com/blog/new-york/boxing/post/_/id/1562/pacquiao-dominates-but-loses-split-decision
http://www.bloodyelbow.com/2012/6/10/3076327/pacquiao-bradley-decision
http://boxrec.com/list_bouts.php?cat=boxer&human_id=6129
http://www.sbnation.com/2012/6/10/3075964/pacquiao-vs-bradley-results-bob-arum-robbery-decision
http://www.boxingscene.com/bradleys-manager-furious-over-bob-arum-scoring-claim—53820
http://www.badlefthook.com/2012/6/10/3076101/pacquiao-vs-bradley-video-teddy-atlas-espn-interview-corruption-boxing-robbery-hbo-boxing-news
http://www.youtube.com/watch?v=Q-zMuBrjhxw
http://www.toprank.com/fighters
http://bleacherreport.com/articles/1176221-five-reasons-why-pay-per-views-are-hurting-boxing
http://bleacherreport.com/articles/1164237-floyd-mayweather-and-the-10-biggest-boxing-pay-per-view-events-of-all-time
http://boxing.about.com/od/history/a/payperview.htm
http://boxrec.com/ratings.php?country=&sex=m&division=Light+Welterweight&status=A&SUBMIT=Go
http://www.doghouseboxing.com/Gabriel/Montoya061012.htm
http://www.opposingviews.com/i/sports/boxingmma/freddie-roach-manny-pacquiao-v-timothy-bradley-%E2%80%9Call-we%E2%80%99ve-got%E2%80%9D#
http://www.interaksyon.com/interaktv/was-the-pacquiao-bradley-fight-fixed